John Paul II Academy Lunch Menu
John Paul II Academy Lunch Menu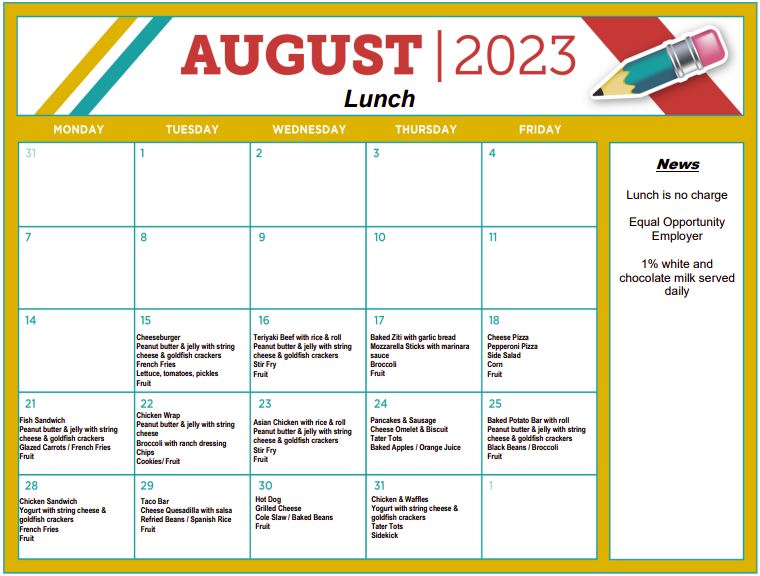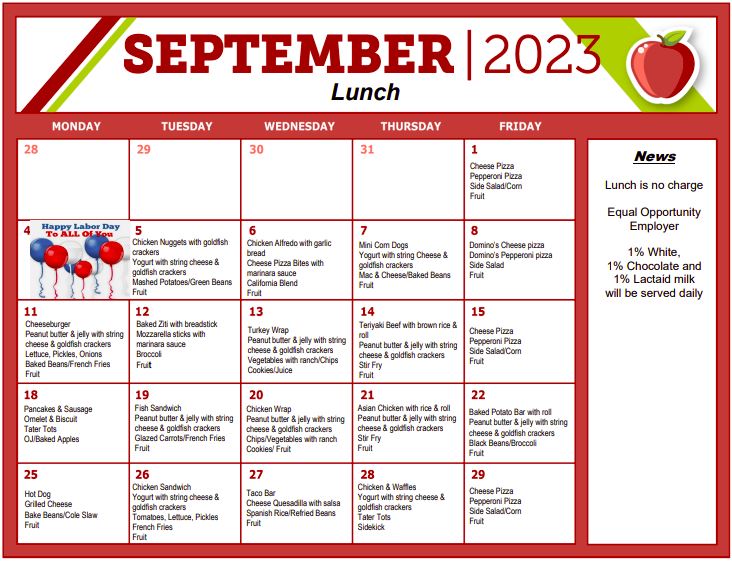 All Policies and procedures for the National School Lunch Program (NSLP) are available for review in the Cafeteria Manager's office during regular school hours.
Parents/guardians should advise the homeroom teacher and school office in writing if a child is allergic to certain foods.
A federally supported school lunch program that offers free and reduced-price lunches is offered to families who qualify. Application forms are available in August.
The lunch program is offered on the choice system. Students are encouraged to eat the entire lunch as offered but, to avoid waste, each child has the option of choosing as few as three items from the menu. Milk counts as one of the three items but dessert does not.
Special items that students like (pretzels, ice cream, etc.) will be sold for an additional charge of $.50 – $1.75 to those students who use the school lunch program. An extra portion of the main school lunch entrée (i.e., a second piece of pizza) will cost $1.75.
JOHN PAUL II ACADEMY (JPIIA) Wellness Policy
JPIIA is committed to the optimal development of every student. The District believes that for students to have the opportunity to achieve personal, academic, developmental, and social success, we strive to create a positive, safe, and health-promoting learning environment for all of the students in our community.
Research shows that good nutrition, adequate hydration, and physical have a direct correlation with positive student outcomes which includes a positive effect on a student's academic success.
This policy outlines JPIIA's approach to ensuring environments and opportunities for all students to practice healthy eating and physical activity behaviors throughout the school day.
Specifically, this policy establishes goals and procedures to promote wellness in the school setting:
I. Students will have access to healthy foods and be in accordance with Federal and State nutrition standards during lunch and when breakfast is provided.
Nutritional information will be age-appropriate and listed in a recipe binder
Lunch menus will be distributed to all families on the last Wednesday of the previous month, listed on the school website (www.jp2a.org), and posted in the hallway near the cafeteria. The next-day menu options are posted by the doors every day during lunch. Daily lunch options are listed as the children enter the line for lunch.
II. Students will have opportunities to be physically active before and during the school day which promotes student wellness.
These will include, a weekly physical education class following Archdiocesan curriculum guidelines (K-8), Minds in Motion (EC- Gr. 4), daily recess (EC-), walking the track prior to school (weather permitting-8), physical activity within the classroom setting (EC-8).
III. School faculty and staff will promote good practices in healthy nutrition.
Lesson plans, "family" activities, snack menus in licensed programs, and
classroom discussion in grades 1 through 8 will reflect the importance of healthy eating/choices.
*** The full policy is located in the Cafeteria Manager's office.
The JPIIA Food Service Department recognizes the right of all of our customers to file a complaint. We also recognize that there may be many occasions when conflicts may be resolved in-house. We are committed to making every effort to provide reasonable solutions when conflicts arise. We will accomplish this by hearing the complaint; clarifying specific desired needs; identifying any barriers and working through these with the desire to meet a mutually agreeable resolution.
JPIIA
CIVIL RIGHTS COMPLAINT PROCEDURE
A complainant has the right at any time to file a complaint via the School Nutrition Programs Civil Rights Procedure.
An assertion will be determined to be a Civil Rights complaint in the Child Nutrition Program if it is alleged that the program is administered or operated in a manner that results in disparate treatment of services being provided to persons or groups of persons because of their race, creed, age, sex, disability, or ethnicity. Unlawful discrimination may be considered intentional or unintentional.
Any person who believes they have been discriminated against based on protected classes has the right to file a complaint within 60 days of the alleged discriminatory action.
A Civil Rights complaint must be written. A complaint may also be anonymous and will be handled the same as any other complaint as long as sufficient information is provided to proceed with an investigation. The Civil Rights Coordinator is responsible for obtaining all pertinent information and developing a written complaint on behalf of the complainant.
The Civil Rights Coordinator:
Shannon Jones
John Paul II Academy
Food Service Director
3525 Goldsmith Lane
Louisville, KY 40220
sjones@jp2a.org
All Civil Rights Complaints will be documented on a Civil Rights Complaint Log. The Civil Rights Coordinator will attempt to collect the following information for insertion into the complaint log:
The name, address, email address, and telephone number
The nature of the complaint or action that lead to the charges being filed.
If the nature of the complaint appears discriminatory the Civil Rights Coordinator will attempt to collect the following information:
The basis on which the complainant feels the discrimination occurred. In order to be considered a Child Nutrition Civil Rights complaint, the complainant must feel discriminated against based on one or more of the protected classes as listed in Civil Rights Procedure paragraph 2 of this document.
The names, titles, and addresses, if known, of persons who may have knowledge of the discriminatory action or situation.
The dates that the alleged discrimination occurred, or the duration of such action.
All complainants will be given a Civil Rights Complaint Form and/or Civil Rights Coordinator completes the form with the complainant. The complainant may also choose to go directly to the Superintendent/Principal of JPIIA.
Persons wishing to file a Civil Rights program complaint of discrimination may complete the USDA Program Discrimination Complaint Form, found online at:
http://www.ascr.usda.gov/complaint_filing_cust.html
For more information about our school lunch program and policies, please see the Student Handbook and this press release on the National School Lunch Program.